Commissions Doubler Review – Should you Invest?
Name: Commissions Doubler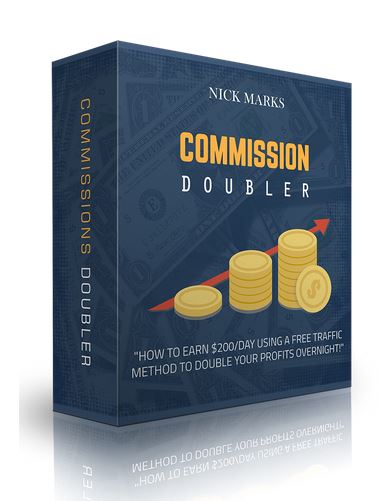 Website: www.commissionsdoubler.com
Price: $47
Creator: Nick Marks
Product Overview
This program promises to show you how to make $200/day using a free traffic method. Allegedly you can double your profits overnight. They offer step by step video training that shows you how to put money in your pocket. Also discover the niche that Nick recommends any newbie use to get started. Within the program you will uncover the  BIG mistakes almost all affiliate marketers make and how to avoid them. Commissions Doubler shows you the fastest way to get hordes of FREE traffic.
Basically the program combines the traffic from Craigslist and niche products for sale from Clickbank. I personally don't think craigslist is the best way to earn money online…. it's better suited for finding a used couch or entertainment center. While niche marketing is an excellent way to earn money, spamming people through sites like craigslist is not a viable technique. I have built several websites in different niches and earn money from them everyday. For me, that's the best way to start an online business that pays.
The program reveals an easy 3 step system:

The Good & the Bad
The Good:
For Newbies
No need for an email list
30 day money back guarantee
The Bad:
Several Upsells
Following the 3 steps does not guarantee you will make money
Free traffic is seldom a good way to get targeted traffic that will convert.
Who is Commissions Doubler For?
Commissions Doubler is marketed toward the newbie or the person who is looking for a quick way to make money.  Often times these tactics or promises of getting rich quickly are not legit and only a few people actually make money or benefit from programs like this. If you would rather look into a program that will actually make you money and teach you the skills to be successful, then check out my recommendation.
Commissions Doubler Tools & Training
Video training is available and a step by step guide is included. The video is long and drawn out. Getting to the point (the technique to make money) was not a priority. After 65 minutes, Nick finally gets to the bones of the program. Way too long if you ask me.
Commissions Doubler Price
The price starts at $47, however most of the time you are able to get it for a much lower price if you act quickly.  They offer a price of only $6.97 for those that choose to sign up within an hour of landing on their page.
---
My Final Opinion of Commissions Doubler
In my opinion, any program that promises you'll make money within 24 hours is NEVER legit. 

Although I do believe certain people can make money with this program, I don't think it's for newbies that are hoping for financial success immediately.  Hard work and consistency is the only way to guarantee success. Most of these programs are shut down within a year.
---
Commissions Doubler at a Glance…
Name: Commissions Doubler
Website: www.commissionsdoubler.com
Creator: Nick Marks
Price: $47 (plus upsells)
VERDICT:  SCAM