Is CB Passive Income 4.0 a Scam or Is it Legit?


Product Name: CB Passive Income 4.0
Official Website: Click Here
Price: $47/month or $97 One Time Lifetime Access
Creator: Patric Chan
Rank: 7 out of 10
---
Product Overview

With CB Passive Income (version 4.0), creator Patric Chan promises that he will do all the work for you.  Sound like a scam?  Keep reading…
– You don't have to write or produce any content
– You don't need to create any products to sell
– You don't need to write any sales letters
– You don't need to provide any customer service or follow up support
– You don't even need to learn about internet marketing!
So if you don't have to do any of these things, what exactly DO you have to do?
CB Passive Income is basically a software system that generates a link (unique to you) that sends people to a page where they can get this software and corresponding course. This allows you to make money through commissions. Essentially, it's just an affiliate program.  However, this system does the work for you by creating the content and marketing.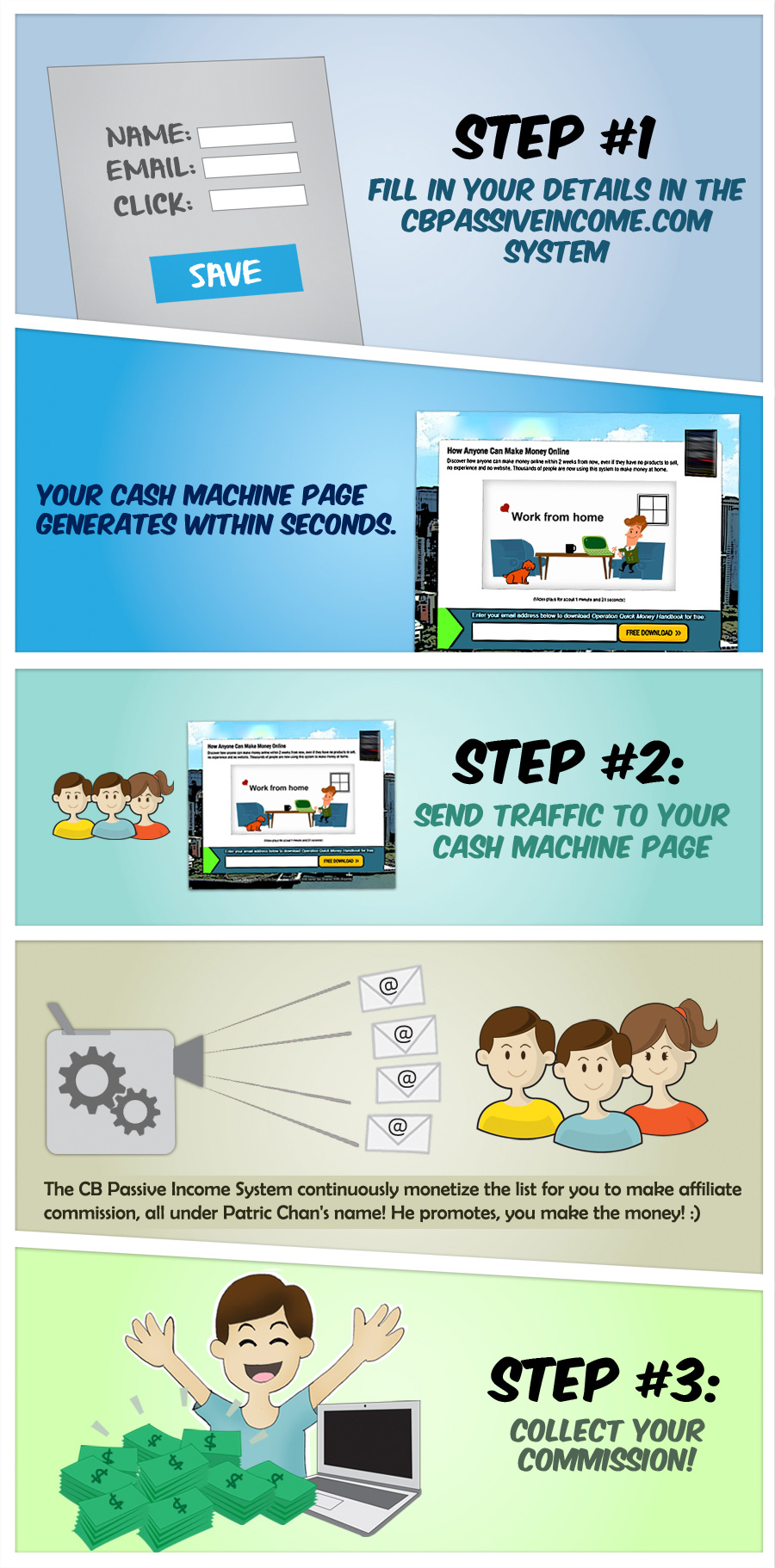 CB Passive Income was originally created in 2013 and every year it has been updated and gotten better and better.  As of 2017, the latest version is CB Passive Income 4.0
---
The Good & the Bad
The Good:
Includes Training on how promote your affiliate link effectively
No need to build a website or have an email autoresponder
Has potential to generate passive income
Newbie Friendly
The Bad:
Not intended to create "instant cash" (not a get rich quick program)
You have to promote your link and drive lots of traffic to it in order to make any money
---
Who is it For?
Newbies that have very little experience promoting affiliate links will find this program appealing because most of the work (including content creation, sales funnels, and marketing) have all been done for you.  There is still the need to promote the link and drive traffic to it, but there is training provided within the course on how to do this effectively.
More experienced internet marketers who are interested in branching out and creating multiple streams of passive income will also find this appealing. 
---
CB Passive Income Tools & Training
There is training offered within this program on how to generate paid traffic as well as free traffic.  This is convenient because some people (especially those starting out) are on a tight budget and will want to spend as little as possible to get traffic to their link.
This program also includes Bonuses:
Bonus 1: The Digital Cover Creator
Bonus 2: Traffic From Google Home Course
Bonus 3: The Email Assassin Home Course
---
Price – How Much Does it Cost
There are 2 price options for this program:
Monthly = $47
Lifetime = $97 (one-time fee)
I recommend getting the Lifetime Access if you have the money to spend. Also, since they are always coming out with updates to the program, you will have access to the future versions.
---
My Final Opinion of CB Passive Income

The automation of this program is ideal for anyone looking to make a passive income. I would stress that you need to be able to drive a ton of traffic to the link.  If that is not something you're very good at, then this program will not make you very much money.
Keep in mind that it won't happen overnight either.  The idea is to grow continual long-term income, not just a quick cash in my pocket scheme.
Simple Breakdown:
You join the program
You get your unique link to promote.
You promote the link with free offer
People join your list
CB Passive Income 4.0 sends emails to the list with product offers
You get a commission.

⇓        ⇓       ⇓       ⇓
If you are looking for a long term passive income, you might want to check out my Personal Recommendation. That's how I make most of my income and what has allowed me to retire early.
⇑       ⇑       ⇑       ⇑
---
CB Passive Income Recap…

Name: CB Passive Income 4.0
Website: Click Here
Creator: Patric Chan
Price: $47/month or $97 One Time (Lifetime Access)
VERDICT: LEGIT
Compare My #1 Recommendation to CB Passive Income ⇓ BELOW ⇓ – Learn How to Make Real Money!