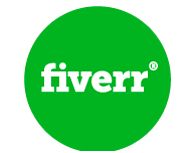 There are several ways to make money with Fiverr, but you may ask yourself, Does Fiverr Work?  The answer is Yes…  many people are making thousands of dollars a month by offering services that others are willing to pay for. Before we talk about the ways in which you can make money, let me explain what Fiverr is.
What is Fiverr?
Fiverr is basically a marketplace where people offer freelance services for a base price (most are $5). For instance, if you are good at graphic design, you could offer to make a Logo for someone and charge them $5. Or maybe you need website content, you could pay someone else to write that content.
These jobs or services are referred to as "gigs." Here are some more examples of what people are offering on Fiverr:
I will design a header image for website or blog – $5
I will do deep research and deliver amazing Keywords – $5
I will draw a headshot cartoon of yourself – $5 (headshot only) or $10 (full body cartoon)
As you can see there are a lot of different ways that people can make money with Fiverr. This is just a very small example of the services offered on this website. There are literally thousands of gigs in a range of different areas.
How to Make Money with Fiverr
There are 2 main ways to make money on Fiverr. Both can be very lucrative, but it just depends on which avenue you would rather go down.
Offer Gigs:
The first way that people make money on Fiverr is to create Gigs and offer to do something in exchange for a base price. Like the examples above, people are making at least $5 per gig. Five dollars doesn't sound like a ton of money, but if you create a gig that people are really wanting, you can really earn a lot. Each gig can be repeated over and over again and the money starts to add up.
$5 is an affordable price that people are extremely willing to pay, so if you get 100 customers in a month, you make $500. Some people are making thousands each month and able to make a living just by doing gigs on Fiverr.
Affiliate Program:
The other way to make money with Fiverr is through the affiliate program that they offer. Each time that someone signs up at Fiverr, you get paid. You basically get a flat rate CPA commission for every first-time buyer that you bring in. All you have to do is promote your affiliate link and anyone that comes to Fiverr via your link, will be counted as your referral.
What I love about this avenue of making money is that you don't have to create a gig and deliver a service. All you have to do is share your affiliate link. You can do this by sharing it on social media or an email list. Or you could create a website and share the link on it. This is a form of passive income and it can be very lucrative.
The only downside to the affiliate program is that you only get paid for First-Time Buyers. But they are easy enough to find and as long as you set up a converting campaign, you can almost "set it and forget it".
How Else Can I Make Money?
Great question…. There are tons of great ways to make money online that are not scams or just pretty shiny objects that fail to deliver. I personally diversify my income streams for various reasons, but mostly because it's just smart. The same way you might diversify your stock portfolio, you want to have several different ways of making money so that when one is slowing down, you can count on the others. It just makes good sense!!!
Below are a few of my personal Income Streams:
Wealthy Affiliate – (check out my review here)
This training program offers everything you need to get started building websites and creating content. It sets you up on a path for success with tons and tons of training classrooms and "how to" videos.
I make the majority of my monthly income here (check out my payment proof blog here)
Unparalleled Affiliate Program and Commission Structure (50%)
Affiliate Marketing (Camping Niche)

I created a Camping/Survival website (using the training and website builder at Wealthy Affiliate) and partnered with major companies. On my website, I offer reviews of camping gear, equipment and such. The brands pay me a percentage of every sale that is generated from links on my website. Cool huh?! (Learn More Here)
Since I love the outdoors and camping, this is really just a way to turn my passion into a lucrative income stream. I basically get paid to be outside!
Ebay

I have 2 boys who are always outgrowing their clothes and toys. They are actually teenagers now, and their Matchbox cars and Legos have been replaced with actual cars (yes my oldest is driving now – Uggghh) and laptops. Selling all their baby and toddler clothes on Ebay has been a great way to make extra money. Plus it frees up a lot of space in our house.
Which One is Right For You?
This all depends on how much money you are wanting to make… do you just need extra cash for weekend spending money? Or do you need a steady source of income (a Full Time Job)? Keep in mind that it will take time to make a full time income online, but it can be done. It will also take commitment and work on your part. But if you are willing to do what it takes, then you are probably ready to start an online Career (not just make a few bucks here and there).
So ask yourself what you want to be making and how much work you are willing to put into it? You'll likely fall into the following 2 categories.
1.  Pocket Change
If this is you, then I would suggest that you stick to Ebay, Survey Sites, or Fiverr. You can put in the small amount of work when you need to, but it won't consume your daily life. Make a few bucks here and there when it's convenient for you. You can make as little or as much as you want.
2.  Full Time Income
If this is you, then I would recommend starting with a training program like Wealthy Affiliate. This will give you the tools and training you need to learn how to become an Affiliate Marketer (which is how most people make a true living online).
I'm a member there, so if you decide to join I'll be happy to help you along the way. Feel free to bounce ideas off me or just ask questions if you get stuck. Here's a link to my profile page…. I would love to hear about your goals and answer any questions you have, so drop me a note.