If you are looking to earn extra cash or maybe even some Bitcoin, then you might want to take a look at this website/app that makes it super easy to rack up points and redeem them for cash, gift cards, and bitcoin.
It's called FeaturePoints and I recently stumbled across it online. So far, I am quite impressed. Keep reading to discover exactly how you earn points and how easily you can redeem those points.
---
Take Surveys
Like most other platforms out there, FeaturePoints allows you to earn points by taking surveys. Now, this is not my favorite way to earn money online, however you can earn a lot of points by doing this if you have the time.
All you have to do is click on a survey that you want to complete and once you have finished the survey, you will receive the amount of points assigned to it. The surveys range from 8 minutes to 20 minutes and they pay out anywhere from 150 points to 3000 points.
If you really love to take surveys, there are a few other websites that I absolutely LOVE to use. They are quick and easy and you don't have to "prequalify" for the surveys, so you don't waste a lot of time. I'll list those below.
---
Complete Offers
Signing up for different offers is another way that you can earn points with this platform. Personally this is not my favorite way to earn points because I'm usually not interested in the offers that are available. However, if you are interested in a particular offer you can actually accumulate a lot of points quickly.
For joining Hulu for instance, you can earn 1,000 points. Other offers can earn you up to 3000 points. Like I said, this is a good way to accumulate points very quickly, but only if you are interested and able to complete the offers.
---
Earn Easy Cash Back
Earning cash back on purchases you were already going to make is one of the best ways to earn points here at FeaturePoints. I've used this option several times and it is especially useful during the holiday season when I am purchasing gifts.
Basically you are earning points when you shop online. There are hundreds of stores to choose from and each one offers a different percentage of cash back.
I recently purchased a Dyson vacuum from Walmart because it was being sold at a great discount. I purchased it online and chose to pick it up in the store. By utilizing the earn cash back feature, I got a great deal on the vacuum and I also got $10 cash back. It was simple and easy.
---
Download Apps – Rack up Points Quickly
If you have a smart phone, you can add FeaturePoints to your phone and earn points while on the go. And if you have an Android you can earn points for downloading other apps as well.
Unfortunately this is only for Android users, and I have no idea if they plan to add I-phone users to the platform opportunity in the future.
The way you get points is by downloading apps and using them for 2 minutes, or registering with the app, or getting to a certain level within the game. After you have done the required steps you can uninstall the app from your phone if you no longer wish to have it.
I like earning points this way, because it is so simple and I've actually found a few apps that I actually like and have chosen to keep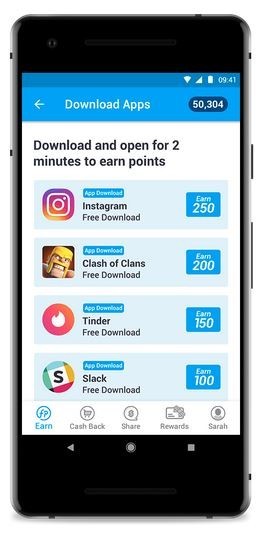 ---
Share with Friends – Referral Program
If you have friends or family that also like earning free money, then you can easily share this program with them and get rewarded for doing so.
Or if you are an affiliate marketer or have a blog, you can also share your link and get more points. I like to make YouTube videos reviewing programs like this and then leave my referral link in the description for viewers to use if they are interested.

By sharing your unique referral link, you will earn 50% of what your referrals earn. This is a great way to make some passive income.
---
Rewards – Earn Cash, Gift Cards, Bitcoin
Now we get to the good part… the REWARDS!! So with FeaturePoints, you can redeem your points for either Cash, Gift Cards, or Bitcoin.
Cash:
You can redeem for "cash" in the form of PayPal or a Visa Card. It only takes 3000 points to redeem $5. And you can redeem all the way up to $1000 (for 600,000 points).

Gift Cards:
Gift cards are another option and sometimes an easier way to redeem… especially if you don't have a PayPal account. There are a ton of gift card options including the following:
Amazon
Google Play
PlayStation Store
Starbucks
Adidas
Best Buy
CVS
Game Stop
eBay
Papa John's
Target
Walmart
Sephora
ETC
Bitcoin:
There is also an option to redeem your feature points for Bitcoin. For those of you who don't know, Bitcoin is a popular Cryptocurrency and it's value fluctuates daily.
You must have a Coinbase account in order to redeem for Bitcoin, but that is fairly easy to do and you can actually earn $10 in Bitcoin by signing up here!
---
Conclusion
As you can see, FeaturePoints offers some great ways to earn extra money for relatively easy tasks. This is one of the websites/apps that I use on a daily basis in order to add to my bank account.
One thing I really love about FeaturePoints is that you can redeem your points for several different things and you are not limited to just PayPal or to just an Amazon gift card. You literally have a choice and you can even get into the Cryptocurrency game if you so desire.
If you want to see first hand how FeaturePoints works, check out the recent video walkthrough I made below:
Sign up for FeaturePoints here
Feel free to leave me a comment and let me know if you have ever used FeaturePoints and how you like it.