Product: Foldable Bluetooth Keyboard
Brand: MoKo
---
About the Brand
MoKo is an innovative company that focuses on designing tools that help people enjoy the digital world.  They make everything from tablet cases and laptop sleeves to battery chargers and selfie sticks. As tablets and smartphones evolve constantly, MoKo has made it their mission to keep up with the ever changing digital world by reinventing their products at the same pace. They strive to set high quality standards and great customer service.
---
About the Product
The MoKo foldable bluetooth keyboard is a portable pocket sized keyboard designed for use with any iOS, Windows, or Android device.  It is made of premium aluminum for superior rigidity and durability.  It has a built-in 210mAh rechargeable battery that works for up to 80 hours.
The foldable design allows the user to easily store the keyboard away when not in use or to pack it easily for travel. The bluetooth capability is both functional and convenient. When folded the keyboard is in sleep mode and it awakens when unfolded.
---
My Review
I love the sleekness of this keyboard and how easily it packs away when I am on the go.  Because I work from home (or wherever I may be traveling), I need my office to be portable.  This keyboard is the perfect addition to my traveling office. I use it with my laptop as well as my Samsung notepad. It works seamlessly with both.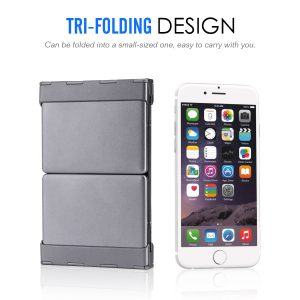 The hinges are extremely smooth in operation and gives the product a very high quality feel. The keyboard folds up to be roughly the size of a postcard…. around 5×3.  I used to have a standard portable keyboard but I couldn't take it with me because it didn't fold and was kinda bulky.
---
Product Info
Folding Size: 5.8″x3.5″x0.7″
Open Size: 9.9″x.5″x0.2″
Compatible with 3 major Operating Systems: iOS/Windows/Android
Supports most bluetooth enabled devises
Compact for Travel
Who is this product for?
Home Business Offices
Travel Bloggers
Backpackers
People who like to travel with their electronic devises
---
Final Thoughts
Pros:
This product is extremely portable and convenient.  It also is very sleek and makes blogging or doing business while traveling a breeze.
Cons:
Some devices (mostly older models) may not work with the bluetooth capability. (However, most products on the market these days are bluetooth capable and this is less of an issue than it used to be)
Where Can You Get it?
This Product is available at amazon.com
---
You May Also Like…