Paid Viewpoint Cash Out
The easy survey site, Paid Viewpoint has a cash out minimum of $15.  That's pretty good considering some sites have cash outs at $30 or even $50.  Recently I reached $15 in my account so I chose to cash out.  The process was pretty simple and quick.
---
Cash Out Options
You have several options when you choose to cash out.  You can either deposit your money in your Paypal account or you can choose an Amazon credit or a Walmart gift card.  I love the fact that you get choices because not everyone has a Paypal account or they may not want to use it.

I personally have my money deposited into my Paypal because it is extremely convenient.

---
Tips and Tricks
While Paid Viewpoint is extremely easy and the surveys are quick and pay well, you do need to visit the site several times a day in order to make good money with it.  The surveys they give you are pre-qualified for you and you don't have to go through the annoying task of "qualifying" for each survey (like you do on some other survey sites).  However, if you don't visit the site often enough, the surveys will go away. My suggestion is to visit the site 3 times a day (that's what I do).  Once in the morning, again at some point during the day, and finally before I close things down for the night.  This gives me more opportunities to take surveys and thus earn faster.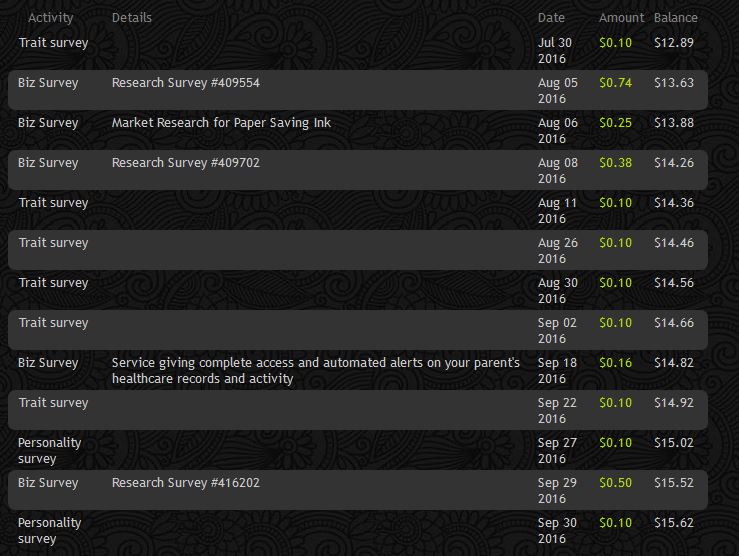 Also, be sure to get referrals signed up under you. You get paid once they cash out and this can be a significant source of income if you tap into it.  Check this site out if you want to drive more traffic to your referral links:  Drive Traffic to Your Websites
---
Video Proof
Check out my Youtube video as I Cash Out my current earnings…
---