About 4 years ago I found myself needing a change, needing a new start, and needing a way to support myself and my kids.  I had a part time job that only gave me about 10 hours a week.  This was clearly not enough to keep us afloat.  So I made the decision to turn over a new leaf (metaphorically of course).
I loved the idea of working from home and also being my own boss.  I was motivated to give affiliate marketing a try but had no idea how to get started or how easy it really was.  I was determined though!
While doing some research online one day, I ran across a blog that talked about building your own website for affiliate marketing.  The blog mentioned a program that was free to sign up for and would train you in everything you needed to know to be successful online.  I gotta admit, I was skeptical… after-all I had been scammed before by other websites.  But I gave it a look and realized pretty quickly that it was offering exactly what it claimed to be.
There was training videos galore and step by step instructions on how to build, set up, and market your own website.  Not only that, I got 2 FREE websites to get started.  I quickly realized that I had stumbled upon something that really could give me the tools I needed to turn over that leaf and start my own business online.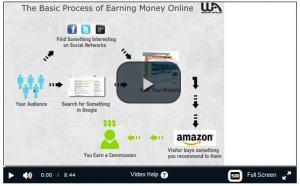 I can't even begin to describe how much knowledge I've soaked up over the past few years. I feel like I've gotten a legitimate college education in internet marketing and business. What I love about it is that it is all in one website and I have access to everyone in the community who are more than welcome to help me out if I get stuck or just need a little motivation.
My life has never been more satisfying… I wake up in the morning and take the few steps commute to my laptop and enjoy a cup of coffee while I make money online.  I don't have to punch a clock or worry about being late to the office.  And I have the flexibility to travel or just meet a friend for lunch or a movie in the middle of my work week.  I dedicate most of my time now to helping others succeed at changing their lives the way I did.