One of the easiest ways to make money selling online is to promote other people's products.  This allows you to generate a profit without having to have your own product or service to sell.  Most of us don't have the time or the resources to build widgets in our garage and attempt to sell them to customers.  But by selling affiliate products, you skip that step altogether.
If you already have a website, then you are way ahead of the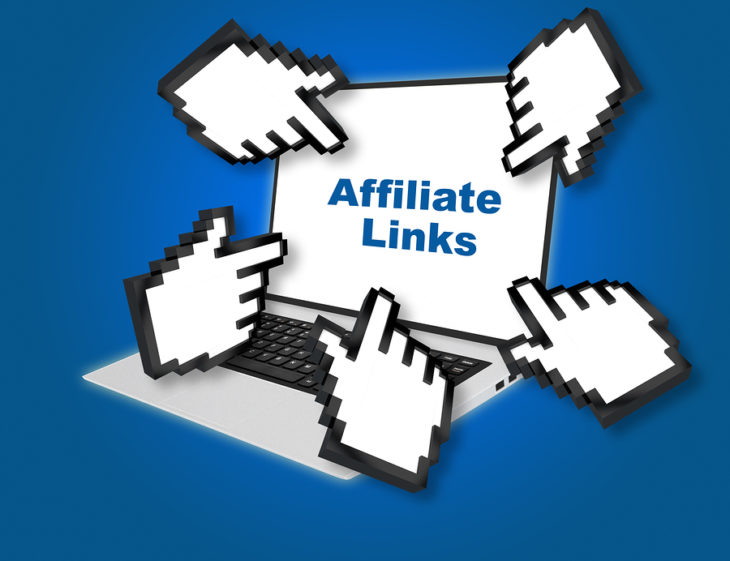 game.  Website and blogs are the absolute best place to begin selling affiliate products. You simply place links or banners on your site and when someone clicks on the link, they are taken to the affiliate's site.  You get a commission for the sale.
If you don't have a website, but want one… then keep reading because I have a very special offer just for you!
---
Finding Affiliate Products to Sell
Individual Companies – There are thousands of companies in all sorts of markets that have affiliate programs. Take Walmart for example… they have an affiliate program that you can sign up for and start making money when you refer customers to them.
Target also has an affiliate program that offers a very nice progressive commission structure… meaning the more sales you make, the higher your commission percentage increases.
Another great Affiliate Program is Amazon.com.  As you probably know, you can find ANYTHING on Amazon and most people trust it, so when you send a customer to Amazon (via your affiliate link), they are most likely going to purchase something.  The beauty of Amazon is that even if they don't buy the particular product you were linking them to, you still get a commission on whatever they might choose to buy.
For instance, you might have a link to a sleeping bag on Amazon.  A customer comes to your site and clicks on the link, however they begin looking around and decide to purchase a different sleeping bag along with some hiking boots.  Guess what, you get the credit for BOTH products!
Most of these companies are easy to sign up for and you can start promoting their products as soon as you are approved.
Affiliate Networks – A lot of companies will partner with an affiliate network for their particular affiliate program.  So places like Avantlink, Share a Sale, and CJ host hundreds of affiliate programs that you can choose from.  Most people like the networks because then all of their programs are in one place.  I personally like Avantlink for my camping website… they have a ton of outdoor related companies that I can promote.
ClickBank – If you are interested in promoting mostly digital products, Clickbank is the best affiliate program.  They have a huge listing of ebooks and other digital products.  Most of these even have landing/squeeze pages that you can utilize.
---
Grabbing The Affiliate Link
After you have signed up with a few affiliate programs and you know what you want to sell online, you need to incorporate that onto your website.  You do this by grabbing the affiliate link or the html code for the product you want to promote.  Most affiliate programs make this pretty easy to do.  A simple copy and paste procedure and you are done. You can even add tracking id's to the links if you want to pinpoint exactly where each click is coming from.
Below is an example of the affiliate link that will be generated specifically for you.  Just highlight and copy the link… past within your blog text or attach to an image.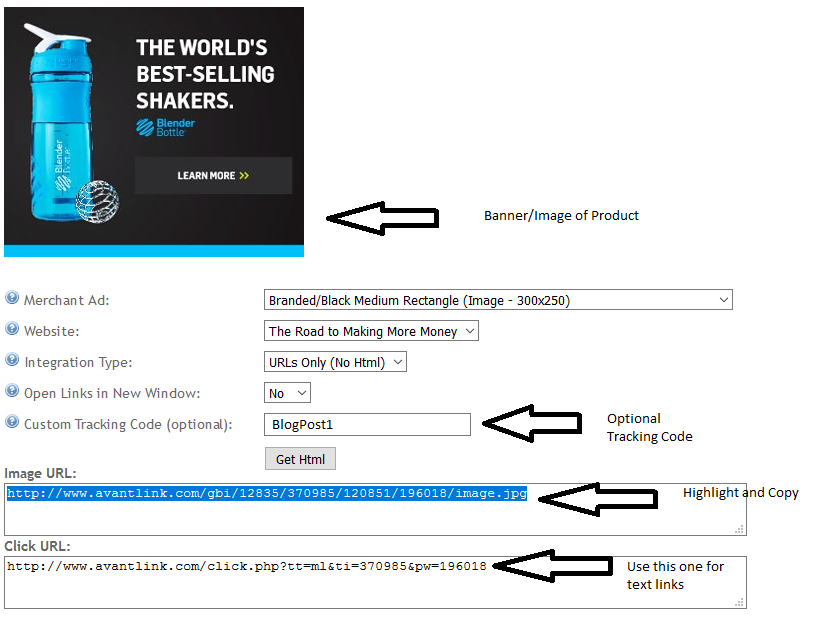 ---
Insert Link Into Website
Deciding where you want to put the link is the next step.  You have several choices when it comes to your website… you may want it in the body of a post or a stand alone banner on a page or you may want it to appear in the side column of your website.
Side Widgets – If you are trying to showcase the product or company, you can add it to a side widget so that it shows up on every page.  Simply do this by grabbing the html code for the size banner you want and paste it into your widget area.

Banners

–  If you have a page or a post that needs some images, you might want to use a banner to promote a particular item or company.  This is accomplished by once again grabbing the html code and then placing it within your page.  I have recorded a very simple, very quick video on how to do this… you can check it out below. 
Simple Text Link

– It has been proven that text links actually convert far better than banners or images in general.  This is usually because you can include a "call to action" when you insert a text link.  In order to add a text link, highlight the text you want to become a link and insert the actual affiliate link that was provided for you.  
---
Collect Your Commissions – It's Time to Get Paid
Once you have made a few sales, the affiliate

programs give you a commission.  The percentage varies from program to program.  But most of them are anywhere from 6% to 20%.  One of my favorite affiliate programs to promote is actually 50% and it's recurring monthly. Check it out here if you are interested
Most affiliate programs have a minimum that you must earn before you can request payment.  And they payout in different ways too.  Some of them use PayPal, some use direct deposit into your bank, and some will send you an actual check.  But in most cases you can pick which payment method you want and what works best for you.
---
Other Ways to Sell Affiliate Products without a Website
While having a website is certainly the easiest and most profitable way to sell affiliate products, there are other ways to get your links out there.  I've listed a few below and I'll be covering these particular methods in later posts, so be sure to stay tuned.
Pinterest

– Although gaining popularity, Pinterest does block you if you put direct affiliate links on it, so you usually have to cloak the links using programs like bitly or tinyurl.
Social Media – Facebook Ads, Twitter, and Instagram are great places to place affiliate links.
Email Marketing – If you have built a list of potential customers, then shooting them an email promoting a sale or a great deal on a product is the perfect way to reach people and get paid.
---
Want to learn more about affiliate marketing and how to be successful at it?
Selling affiliate products online is actually quite easy and extremely profitable especially if you have the proper tools and training.
I have a 5 day course that I designed to walk you through STEP BY STEP  the process of building a website and making money with it.  If you follow the course, in 5 days from now you will have a profit making website and a legitimate online business on your very own.  Sign up below to get started
---
Ask for Comments
Save
Save